Art Thompson's Speech on How We Must Restore Election Integrity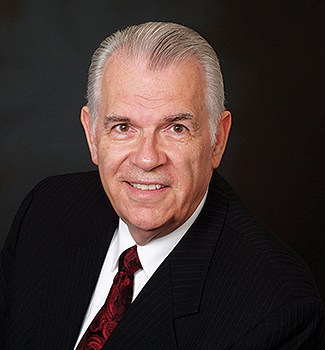 By: Rich Loudenback
Arthur R. Thompson, CEO Emeritus of The John Birch Society gave a presentation on Thursday, May 11th at the CDA Resort and Convention Center on what must be done at local and state levels to eradicate voter fraud by restoring our election integrity. He made the point that most of the changes can be implemented by our state legislators.  He stated that it's important for us to contact our state representatives and senators to implement the following 7 Steps:  1. Let voters monitor their elections 2. Restrict voting to paper 3. Abolish early voting 4. Abolish same-day registration 5. Abolish ballot harvesting 6. Abolish laws allowing universal mail-in balloting 7. Implement a Voter ID.
He also stated that, it's Important that we demand that our U.S. Congress repeal the 'Motor Voter Act' and the 'Help America Vote Act.'
From the John Birch Society's website, jbs.org:
The Motor Voter Act or 'National Voter Registration Act of 1993': "This law – unconstitutionally – requires states to automatically register voters when they apply for driver's licenses or public assistance. This and other provisions of the law have contributed to inaccurate voter registrations. Congress must repeal this unconstitutional law."
The Help America Vote Act: "Among the law's other provisions, it requires states to purchase electronic voting machines. In the panic to comply with this federal law, states purchased machines with technical problems and which did not leave a paper trail, thus undermining election integrity. Even more worrisome, some of this new equipment and software originated in foreign countries. Congress must repeal the "Help America Vote Act."
These laws appear in the TAKE ACTION section listed on the top of the front page at JBS.org where it's listed as RESTORE FEDERAL ELECTION INTEGRITY.  It states at the top of this alert: "Congress must repeal every federal law that undermines election integrity, prevent the passage of laws that encourage voter fraud, and – working within its constitutional boundaries – enact legislation that builds confidence in our Republic's elections."
YOU CAN TAKE IMMEDIATE EFFECTIVE ACTION AS EXPLAINED HERE:
All the many Action Alerts are designed for you to literally take action by simply clicking on the green TAKE ACTION NOW button on the right side of the page which will have you enter your personal information on the next page which then opens the actual Action Page. It gives a concise description of the chosen issue for you to read and then also gives an in-kind suggested response to it which you can send, edit or send your own statement.  At the top of this page are the names, phone numbers and photos of your U.S. Representatives and Senators. You can call their office directly or you can even send a video of yourself telling them how you feel about an issue.
Action Alerts are not only an incredible tool for national issues but many state issues can also be dealt with by using them.
Unfortunately, too many people have the mindset that nothing can be done about these stolen elections and have given up which probably affected the turn-out for this most important speech.
Art Thompson: "Where does it all start?  It starts with your neighbor. A lot of us say that our neighbors are dumber than a stump when it comes to politics.  Why are they and you're not? It's because you have alternative methods of learning that they're not aware of.  So, we need to show these arguments as to what makes a real honest election so that nobody can question it.  A lot of people are out there with their heads down. There are millions of people out there that agree with us.  They might even be next door. We need to meet our neighbors and be friendly with them and start to educate them about what is going on. We have a moral responsibility to be involved if we know there's a problem. Who's that problem going to be solved by?  It's going to be solved by me and everybody I can get to join with me. The slogan of The John Birch Society is: 'Less Government, More Responsibility and with God's Help a Better World.'  One of the problems we have in America today is a lack of responsibility.  People have to assume that responsibility, at least, enough of them.
"The American Revolution was performed by 3% of the American people. That's all that were actually actively involved. Most people don't know that most militia served with the British Army. They didn't serve with Washington. Only 3% of the American people, again got involved in the American revolution. But 5% run the communities. 5%, if you have 3%, that's 60% of the people that make things happen. So those are the people that you have to go after and get them mentally involved. The local businessman, the opinions holders, the people that run the Boy Scouts, the community club and on and on and on. And the people that are in office.  These are the people that you have to get to understand this issue as well as any other.  You've got to get ahead of the issue. Yoo can't say, well, I'm gonna wait until the legislature convenes. You've got to go out and find out who's running now for the legislature, who's running for reelection for the legislature. And you sit down with them one on one and you show them the possibilities of fraud, even if there may not be any fraud in your area.  And say that look, if you do these particular steps and pass laws of the legislature, you won't have dishonest elections or will be less likely to have dishonest elections. And then once you get that commitment you stay with them to reinforce them because they're going to be under tremendous pressure to vote otherwise."
The Full Video is here: