INTRODUCTION
If you go to the entry points to most towns, you will find yourself standing before a sign with a freemason symbol on it. On the North Hill entrance, you will find a welcome sign. This sign has two Freemason insignia on the mount (Rotary International and Freemason). If you search the internet for this welcome sign, all but one will only show the welcome sign without the Freemason plaques attached to the mount. There was a third plaque that has been removed. The opposite side of the mount, there is a plaque that says "This project was provided by your Bonners Ferry Rotary Club".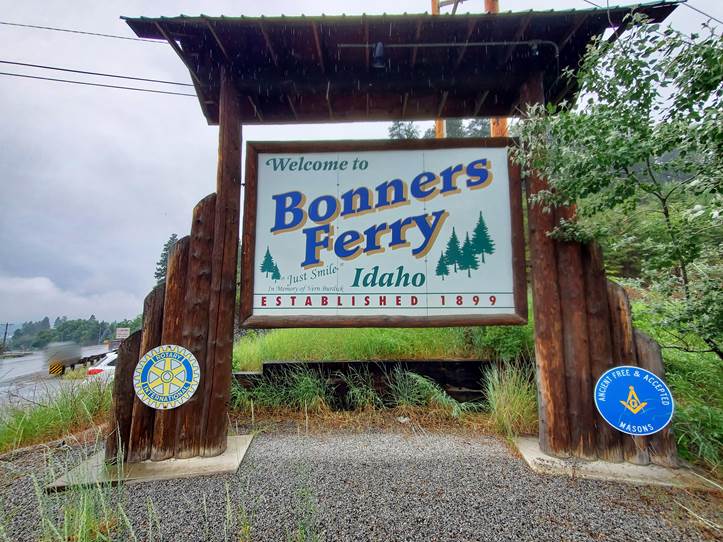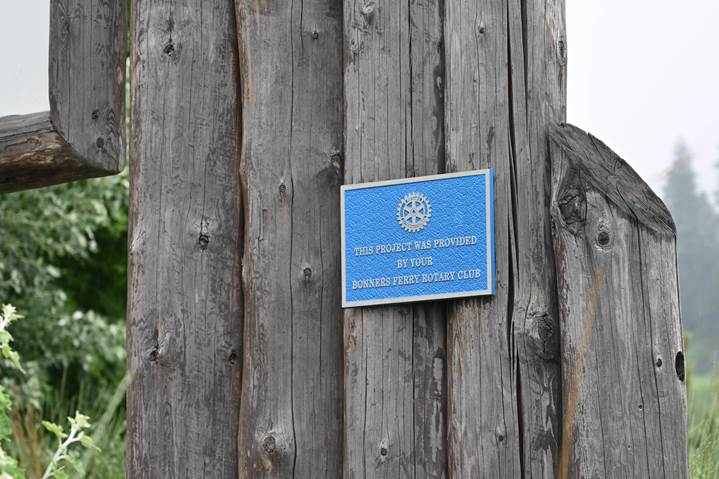 Freemasonry has several associated organizations that it is directly connected to such as:
Rotary International
Lions Club
Shriners
DeMolay
Order of the Eastern Star
Rainbow Girls
American Legion
You can find an "official" list of Freemason fraternities in the United States here: https://en.wikipedia.org/wiki/List_of_general_fraternities#United_States
Although Freemasons like to deny that Rotary International is not "officially" a Freemason organization, there are hundreds of sources available that tell the story of how the Freemasons took over this organization, and now control it.
The Grand Lodge of Idaho shows some of the official organizations linked to Freemasonry. Here is a screenshot from the Idaho Freemason page: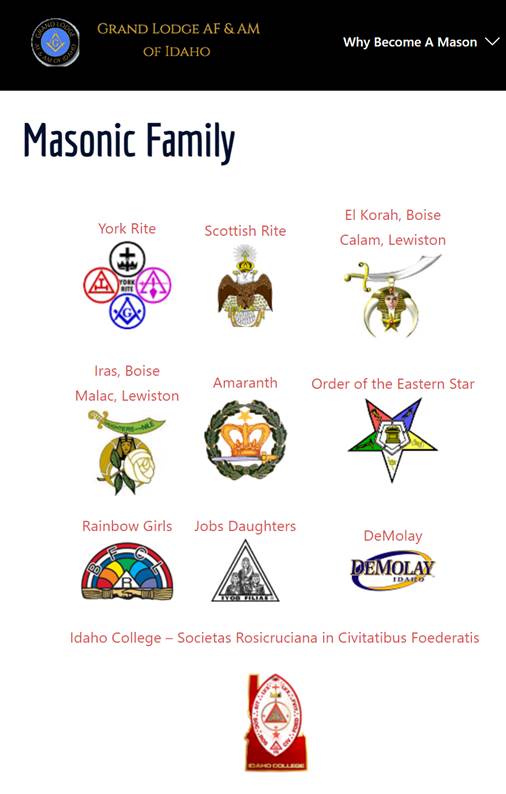 There are hundreds of other organizations that Freemasons have taken over, and/or directly connected to. Here is just one source that discusses this topic:
https://tetraktys.co.uk/rotary-and-lions-two-quasi-masonic-societies/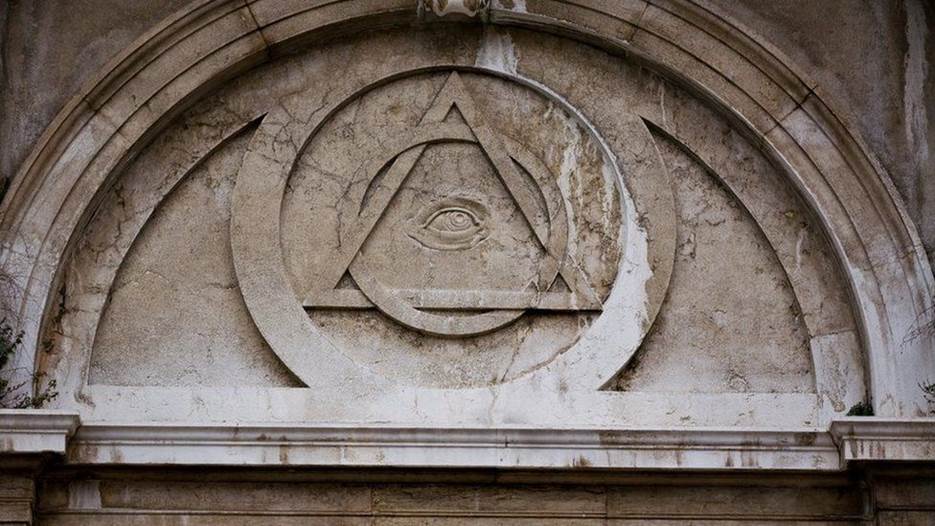 FREEMASONRY IS EVIL
Most adults in the US have heard of Freemasonry. However, most people do not understand just how evil this religion/organization truly is. There are hundreds of books, letters and memoirs written on this topic. Here, we will show just a few.
Freemasonry is a Luciferian organization that consists of secrecy, blood-oaths, oaths with the punishment of death, worship of men and worship of Lucifer. It also teaches Gnosticism, while hijacking the Hebrew "Tetragrammaton", and claims that the Hebrew God (The Creator) is actually "Lucifer". We could go on and on about how Freemasons use symbolism and attempt to corrupt the will of "The Most High Elohim". Freemasonry's goal has always been to infiltrate and control all elements of elect-groups, organizations, governments and businesses in an effort to guide humanity to their Luciferian plans of total domination, enslavement and coercion of humanity.
Unfortunately, many members of Freemasonry are unaware that they are actually part of a cabalistic Luciferian plan to enslave mankind. The rest, are so incredibly evil, they will stop at nothing to retain control and perpetuate the Luciferian Doctrine.
"Satan, Prince of This World" is a book written by William Guy Carr and published in 1959. Carr, was a Canadian naval officer that explored the concept of a global conspiracy orchestrated by an organized network of secret societies and powerful individuals. In the book, Carr's research reveals that these secret societies, influenced by what he calls the "Luciferian ideology," are working towards establishing a totalitarian world government under the control of Lucifer.
Carr's book reveals some awful things about Freemasonry and other secret societies. You may ask yourself "What else does it say?". Carr's book can be found here: Satan, Prince of This World.
Letters on the Masonic Institution is a book written in 1875 by John Quincy Adams. Adams outlines how Freemasonry gets hold of individuals, and changes them. It also describes some of the death-oaths. His book can be found here: Letters on the Masonic Institution.
Another good source of information is a book called "The Character, Claims, and Practical Workings of Freemasonry. This source describes how Freemasons manipulate the public, and murder those who have taken the oaths, but may be suspected of revealing the secrets of the cabal. His book can be found here: The Character, Claims, and Practical Workings of Freemasonry
Albert Pike is the most well-known high-ranking Freemason that ever lived. Pike was a Luciferian, and is known for his writing called "Morals and Dogma of the Ancient and Accepted Scottish Rite of Freemasonry," published in 1871. This book explores the symbolism, rituals, and philosophy of Freemasonry and is considered a significant text within the Masonic community. In this book, Pike (unintentionally) reveals just how evil Freemasonry is, and their plans for total control of humanity, to complete the goals of Lucifer. His book can be found here: Morals and Dogma of the Ancient and Accepted Scottish Rite of Freemasonry.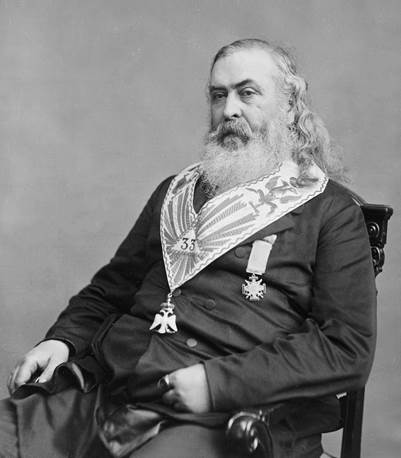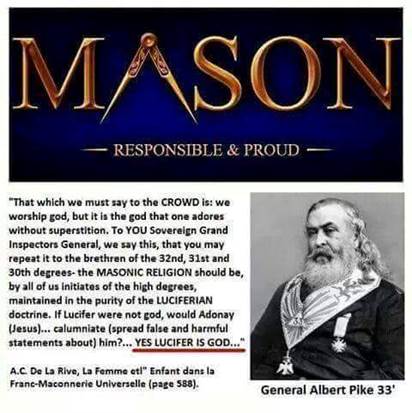 Albert Pike
A website called "Heritage History" provides a very good summary of the Luciferian Doctrine, and other information about Freemasonry. The following is just a sample of what you can find on their site:
"The Luciferian dogma and doctrines as expounded by Pike and others who at one time or another have been High Priests of the Luciferian reed can be summed up in very few words. It teaches 'inversion' of the Commandments of God. It teaches the exact opposite to what the Scriptures tell was God's plan for the rule of the Creation before Lucifer led die Heavenly revolt. How do we know this statement to be the TRUTH?
The answer is simple. At various times documents of a most serious nature have fallen into hands other than those intended, while being circulated by the High Priests of the Luciferian Creed, to those they had selected to be heads of the Lodges of the Grand Orient and Councils of the New and Reformed Palladian Rite, which have been the secret headquarters of the W.R.M.. throughout the world. I call these incidents 'acts of God.'
Raids on Lodges of the Grand Orient and Councils of the New and Reformed Palladian Rite between 1784 and 1924 produced documents and other evidence which prove conclusively the continued existence of the Luciferian conspiracy to obtain ultimate world domination. The raids conducted by the Bavarian government in 1784-1785 produced documents which were published under the title, "The Original Writings of the Order and Sect of the Illuminati."
The raids conducted by the police under orders of the Hungarian government in 1919 after Bela Kun had usurped power and been deposed, are typical of what we mean.
Further evidence of the Luciferian plot to destroy ALL remaining governments and existing religions is to be found in the book, "Proofs of a Conspiracy to Destroy All Governments and Religions in Europe" by Professor John Robison, of Edinburgh University in 1797. Prof. Robison had been approached by Weishaupt and his leading Illuminists and asked to assist them infiltrating Luciferian ideas, disguised as Illuminism and Progress, into educational institutions and the Lodges of Freemasonry in England and Scotland. He was asked to tour Europe, and, as a 32nd Mason of the Scottish Rite, he was introduced to leading Illuminists who had set up Grand Orient Lodges throughout Europe. John Robison suspected there was something behind Illuminism as it had been explained to him, but kept his suspicions to himself. He was entrusted with a copy of Weishaupt's revised and modernized edition of the age-old conspiracy as compiled by Zwack, for his study and comments. When the French Revolution broke out in 1789 as part of the conspirator's revolutionary programme, Professor Robison decided to publish the information he possessed in support of what the Bavarian government had exposed in 1786."
The entire description can be found here: The Luciferian Doctrine
And here: HOW LUCIFER CONTROLS INFORMATION
What Does Have to do With Bonners Ferry?
The local Freemason group rarely hold meetings at the official lodge #43 in Bonners Ferry. The meetings are usually held at a private residence(s) in which we know the location(s). As of 2009, there were officially 49 members in Bonners Ferry. This number is reported as being doubled to tripled, as of 2023. Some of the local members are public about their membership. Others are too cowardly to openly admit their membership.
We have dozens of witnesses who have given testimony regarding the Freemason hold on this community, since its establishment in Bonners Ferry over 100 years ago. It turns out that Bonners Ferry has an extraordinarily high percentage of Freemasons, for such a small community. We have gathered information on dozens and dozens of Freemasons in this community. It turns out, that every political, and government organization in Boundary County is controlled by Freemasons and has been for a long time.
This partially explains why, when anyone dares to speak out about the wrongdoings committed by any of the local government organizations, the friends and families associated with this cabal go after them, like chickens go after a mouse in a chicken coop.
What are the good people of Boundary County going to do about this? We at Boundary.News encourage you to reach out to us with any relevant information on the local cabal. We are investigating several facets regarding this topic, and the total corruption that has its grip on this community.
The corruption in this county was spawned by the members of the Luciferian cabal that is Freemasonry. Unfortunately, the most powerful people in this county, most of our politicians in Idaho & Washington DC, and much of local law enforcement are Freemasons.